Once you've been registered for the Prescribing Safety Assessment by your organisation, you will be able to login to your PSA platform account and take advantage of the four 30-item practice papers that are included. But once you've done those, where do you look next? 
The good news is that you don't have to look far! 
As the learning and assessment branch of the British Pharmacological Society (who deliver the PSA in partnership with MSC Assessment), we have worked with a team of experts to create three additional practice papers to help PSA candidates (as well as candidates for the Prescribing Skills Assessment overseas) prepare for their final prescribing exam. 

Paper 1 and Paper 2 are 30-item practice papers, just like the papers you'll already have encountered in your PSA platform account. They're aligned to the BNF and are designed to provide the most authentic practice environment possible. 
Paper 3, however, is something special. It's the only available 60-item practice paper, with 200 marks up for grabs (just like the real exam). That means you can take things to the next level and time yourself over 2 hours. Not only will you get a really good understanding of the time pressures involved in the Prescribing Safety Assessment, but you will also get a taste of what it's like to prescribe under pressure in real life. 
You get lots of detailed feedback on your answers, so you can understand where you went wrong and learn how to correct yourself. You also get unlimited attempts on all three papers, so you can assess your weakest areas (with the help of our feedback) and improve as you practise.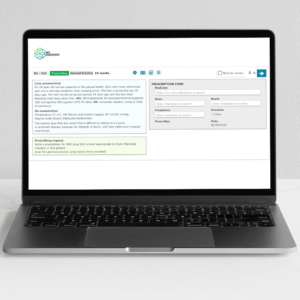 So what are you waiting for? You can grab all three papers today for just £40 (and you'll get 9 PSA Prep eLearning sessions to go with them) or you can buy them individually. Papers 1 and 2 are £15 each, whereas Paper 3 is £25.