This online assessment is designed to test key prescribing competencies across a range of clinical scenarios, following the Prescribing Safety Assessment blueprint: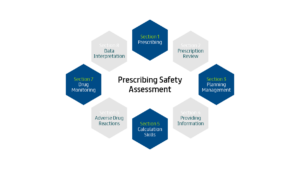 The blueprint is based on the core prescribing competencies identified by the GMC for all doctors, and is known in the UK and around the world as a valid and reliable test of these competencies.  The question styles include:
Writing a prescription for a single drug indicated in the scenario presented
Prescription review of current patient medications, identifying prescriptions that are likely causes of the presentation, prescriptions that require dosage alterations because of new information, prescriptions that contain important errors, or prescriptions that are no longer indicated
selecting appropriate information about prescribed medicines that should be provided to patients, carers and other professional colleagues
planning the management of common clinical presentations
anticipating and treating common adverse drug reactions and interactions
calculating drug doses accurately
identifying the appropriate means of monitoring for the beneficial and adverse drug reactions
interpreting data that might influence ongoing prescribing
Certification will be given upon completion of one 30-question assessment, to the value of 6 CPD points. You'll also receive detailed feedback on your answers, helping you identify any prescribing competencies that need refreshing. You can retake the assessment as many times as you wish.
This product has been approved for Distance-Learning CPD Credits by the Federation of the Royal Colleges of Physicians of the UK. The expiry date for CPD approval is April 2024.